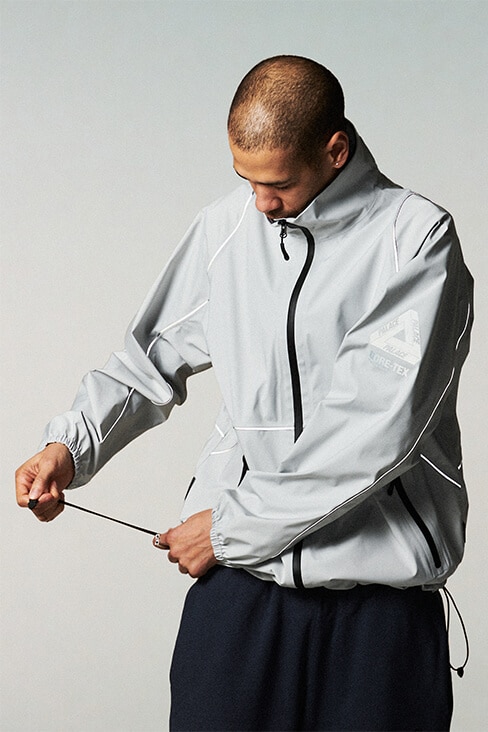 Step into Summer 2023 with Palace's Athletic and Laidback Collection
London-based fashion label Palace is getting ready for Summer 2023 with a brand new collection. A collection lightweight menswear that flawlessly combines the brand's athletic DNA with its laidback attitude. This season, Palace is all geared up for an active summer, with a range of sport-ready silhouettes, perfect for your next outdoor adventure. And when the sun sets, you can rely on Palace's rave-inspired uniforms to keep you stylish and comfortable.
For Summer 2023, Palace has taken a trip down memory lane, all the way back to the early '00s. You'll find an array of relaxed button-down shirts featuring dripping ice cubes and serene sunset graphics, reminiscent of dated album covers. If you're worried about the unpredictable British summertime, Palace has you covered with a fleet of GORE-TEX windbreakers boasting 3M pipping and co-branded arm badges.
Running and cycling-inspired garments are packed with inflated balloon illustrations and "TOUR DE FORCE" lettering, while football-style crewnecks feature the brand's four-star emblem and "Paláce Tecnical" scripture. Gothic detailing enhances essential hoodies matched with studded brims, while Palace's London Forever airbrushed graphic delivers eyed sunsets and supercars to additional designs. Woodland Camo conceals flight suits ideal for outdoor play, accompanied by '90s acid wash denim, motorsport tees, crinkled shirting, and corduroy bottoms.
And it's not just clothing that Palace has in store for Summer 2023. The accessories department features flannel-printed, glossy, and overdyed graphic bucket hats, while trucker caps receive teddy bear cartoons, Om symbol embroidery, and classic "P" motifs.
Take a sneak peek at Palace's Summer 2023 lookbook below and get ready for Drop 1 of the collection, set to release in-store and online in the UK and EU on May 5 at 11 a.m. GMT, online in the US at 11 a.m. EST, and in-store in New York and Los Angeles at their 11 a.m. time zones. The delivery will launch in Japan in-store and online on May 6 at 11 a.m. JST, and via WeChat at 11 a.m. CST. Get your summer wardrobe ready with Palace's latest collection!